WELCOME TO THE UKRAINIAN IRON CHEF WEBSITE!

Passion
Passion is when you put more energy into something than is required to do it. It is more than just enthusiasm or excitement, passion is ambition that is materialized into action to put as much heart, mind, body and soul into something as is possible.


---

---
to Autumn

----John Keates----

---

​Season of mists and mellow fruitfulness,
Close bosom-friend of the maturing sun;
Conspiring with him how to load and bless
With fruit the vines that round the thatch-eaves run;
To bend with apples the moss'd cottage-trees,
And fill all fruit with ripeness to the core;
To swell the gourd, and plump the hazel shells
With a sweet kernel; to set budding more,
And still more, later flowers for the bees,
Until they think warm days will never cease,
For Summer has o'er-brimm'd their clammy cells.

Who hath not seen thee oft amid thy store?
Sometimes whoever seeks abroad may find
Thee sitting careless on a granary floor,
Thy hair soft-lifted by the winnowing wind;
Or on a half-reap'd furrow sound asleep,
Drows'd with the fume of poppies, while thy hook
Spares the next swath and all its twinéd flowers:
And sometimes like a gleaner thou dost keep
Steady thy laden head across a brook;
Or by a cyder-press, with patient look,
Thou watchest the last oozings hours by hours.
​
Where are the songs of Spring? Ay, where are they?
Think not of them, thou hast thy music too,--
While barréd clouds bloom the soft-dying day,
And touch the stubble-plains with rosy hue;
Then in a wailful choir the small gnats mourn
Among the river sallows, borne aloft
Or sinking as the light wind lives or dies;
And full-grown lambs loud bleat from hilly bourn;
Hedge-crickets sing; and now with treble soft
The red-breast whistles from a garden-croft;
And gathering swallows twitter in the skies.
​
---
---
Happy Halloween 2015
Trick-or-treating is a Halloween custom for children in many countries. Children in costumes travel from house to house asking for treats such as candy (or, in some cultures, money) with the phrase "Trick or treat". The "trick" is a (usually idle) threat to perform mischief on the homeowners or their property if no treat is given to them. It typically happens during the evening of October 31. Some homeowners signal that they are willing to hand out treats, for example by putting up Halloween decorations outside their door. Others might simply leave treats on their porch.

In North America, trick-or-treating has been a Halloween tradition since the late 1920s. In Britain and Ireland, the tradition of going house-to-house collecting food at Halloween goes back at least as far as the 16th century, as had the tradition of people wearing costumes at Halloween. In 19th century Britain and Ireland, there are many accounts of people going house-to-house in costume at Halloween, reciting verses in exchange for food, and sometimes warning of misfortune if they were not welcomed. While going house-to-house in costume has remained popular among Scots and Irish, the custom of saying "trick or treat" has only recently become common. The activity is prevalent in the United States, Canada, the United Kingdom, the Republic of Ireland, Puerto Rico, and northwestern and central Mexico. In the latter, this practice is called calaverita (Spanish for "little skull"), and instead of "trick or treat", the children ask ¿me da mi calaverita? ("can you give me my little skull?"); where a calaverita is a small skull made of sugar or chocolate.


---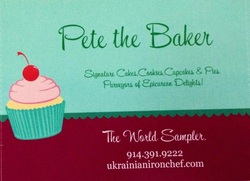 ​
INTRODUCING OUR SISTER SITE
"Pete the Baker"L-O-V-E
doesn't stop with his enticing cuisine, Pete has always had a perchant for baking... Now he wishes to share it with everyone else, not only by baking for the holidays or his parties, but by also making his "Sweets" available by order to all, to share and enjoy with their friends and family...
Please visit
Pete-The-Baker.com
, enjoy the gallery and place your order today!
For your convenience you can click on the buttons below.
---
---